Internal Hard Disk for
KORG TRITON Classic series
(Triton, Triton Pro, Triton Pro X, Triton Rack)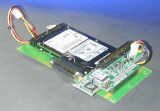 With a new adapter developed by musitronics, now it is possible to install a 2.5" laptop IDE Hard Disk Drive inside the KORG Triton workstation. It is also possible to add external devices to the SCSI Interface at the same time. The internal HD Kit comes with a 5GB high quality small 2,5" Hard Disk that uses the maximum hard disk size the Triton can handle to 100%.
For more information (price, delivery time) please send us an e-Mail: